Our Pastors and Lay Leader
Doing our best to live out the principles of Servant Leadership
Pastor Frank O. King
Senior Pastor
Prior to coming to People's United 3 years ago, Pastor Frank had been with St. Matthews and Rock Church Ministries in Sandown and Plaistow in a variety of positions for 20 years and was pastor at St. Matthews from 2013 to 2017. He is a second career pastor. Twenty years ago, while senior vice president for the Community Newspaper Division of Dow Jones & Co. in New York, Frank felt God's call to ministry and immediately resigned from his corporate position and moved to Sandown, NH.
Pastor Frank is a member of the Congregational Development Team for the Tri-State District of the United Methodist Church, awarded the Denman Evangelism Award for the New England Conference in 2011. In 1989 he was named the B'nai Brith person of the year in Beverly, MA, and in 1990 received the Gordon-Conwell Theological Seminary president's council award for dedicated service.
He and his wife Sherry have three adult children and six grandchildren.
Pastor Lee E. Elliott
Associate Pastor
Over the last 2 years, Pastor Lee has served our church starting out as a coordinating pastor, and now the associate pastor. He is currently in a Master's program in Ministry and Advanced Biblical Studies at Cedarville University and will graduate in May 2021.
Before our church Pastor Lee had been with St. Matthews and Rock Church Ministries in Sandown and Plaistow in a variety of positions for 15 years and was online and campus pastor at St. Matthews from 2015 to 2017. He has held many positions in the church, especially in the motorcycle ministry (Place of the Skull), music ministry, and youth programs.
He and his wife Marybeth have 3 grown children.
Patricia Chase
Lay Leader
Patricia has been a member of PUMC for over 30 years. She is a third-generation Methodist who was baptized at PUMC by William Wyle. She was married at PUMC to Butch Chase by Alton Mark on June 17, 1972. She has attended Sunday School as a child and an adult. She has two children Amand and Stephen and two grand-children Elizabeth and Daniel Huber.
She taught Sunday School, all ages, and was the Sunday School Superintendent for 10 plus years. She has led Bible Studies, taught and directed VBS, participated in choir and Praise Band, and leads the congregation in prayer during worship. She has been the chair of several committees over the years. Presently she is on the Finance Committee, Witness Committee, and Church Council She was Treasurer for 15 years and is the Lay Leader starting in 2017.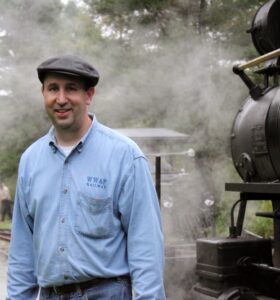 Ed lecuyer
Director of Music Ministry
Ed was asked to come and lead the music for just one service; nearly three years later he still hasn't left. Ed currently directs all aspects of PUMC's music ministry, including the choir, praise ensemble, and (most importantly) congregational singing. Ed's unique keyboard accompaniment style, instrumental arrangements, and openness to the Spirit contribute to a truly welcoming and blended worship experience that each week features traditional hymnody alongside contemporary favorites.
Prior to PUMC, Ed has served across denominations and congregations large and small, most notably at St. Elizabeth of Hungary in Acton, Ma.; Rock Church Ministries in Sandown & Plaistow, NH.; CCF "Street Church" in Haverhill, Ma.; St. Boniface in Lunenburg, Ma.; and St. Rita's in Lowell, Ma. When not enjoying time with his adult daughter Emily, Ed can be found riding the rails of the WW&F Railway Museum in Alna, Maine where he volunteers as Trainmaster.
Those interested in joining the PUMC Music Ministry can reach Ed at:
music@PUMCFremont.org
All instruments, voices, ages and abilities are welcome.